EVENT SUMMARY:
National Plantation Industry Conference and Exhibition (NAPiCEX) is the premier conference and Exhibition for the presentation of new advances of issues and research result in the field of plantation sector. The conference will also provide opportunities to establish and strengthen international networking with world and renowned scientist, agriculturists, policy makers and plantation industrial professionals. The conference will include oral and poster presentations, exhibitions and post conference tour.
OBJECTIVE:
To share, discuss and collate knowledge, experience and ideas among policy makers and plantation industrial professionals in meeting the future challenges of plantation management.
To regenerate the ideas through new innovations in plantation industry.
WHO SHOULD ATTEND?:
Plantation Managers
Assistant Managers
Agriculturist
Academicians
Policy Makers
Extension Specialists
Senior Government Officers
Scientist
Plantation
Agriculture
Foresty Consultants
Research Student
NAPiCEX 2015 – Topic / Presentation Slides Download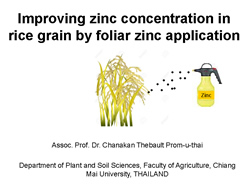 Improving Zinc Concentration in Rice Grain by Foliar Zinc Application
By Assoc. Prof. Dr. Chanakan ThebaultProm-u-thai
Department of Plant and Soil Sciences, Faculty of Agriculture, Chiang Mai University, Thailand


Download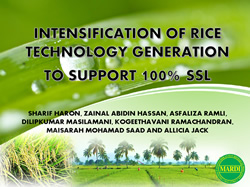 INTENSIFICATION OF RICE TECHNOLOGY GENERATION TO SUPPORT 100% SSL
By SHARIF HARON, ZAINAL ABIDIN HASSAN, ASFALIZA RAMLI, DILIPKUMAR MASILAMANI, KOGEETHAVANI RAMACHANDRAN, MAISARAH MOHAMAD SAAD AND ALLICIA JACK


Download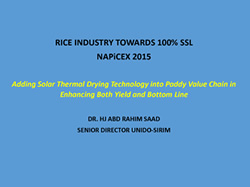 ADDING SOLAR THERMAL DRYING TECHNOLOGY INTO PADDY VALUE CHAIN IN ENHANCING BOTH YIELD AND BOTTOM LINE
BY DR. HJ ABD RAHIM SAAD
SENIOR DIRECTOR UNIDO-SIRIM


Download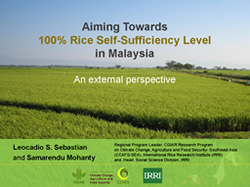 Aiming Towards 100% Rice Self-Sufficiency Levelin Malaysia
By LeocadioS. Sebastian and SamarenduMohanty
Regional Program Leader, CGIAR Research Program
on Climate Change, Agriculture and Food Security-Southeast Asia (CCAFS-SEA), International Rice Research Institute (IRRI)
and .Head, Social Science Division, IRRI


Download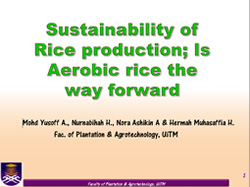 SUSTAINABILITY OF RICE PRODUCTION; IS AEROBIC RICE THE WAY FORWARD
BY Mohd Yusoff A., Nurnabihah H., Nora Ashikin A & Hermah Muhasaffia H.
Fac. of Plantation & Agrotechnology, UiTM


Download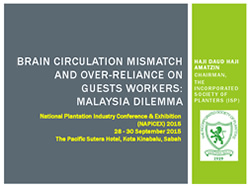 BRAIN CIRCULATION MISMATCH AND OVER-RELIANCE ON GUESTS WORKERS: MALAYSIA DILEMMA
By HAJI DAUD HAJI AMATZIN CHAIRMAN,
THE INCORPORATED SOCIETY OF PLANTERS (ISP)


Download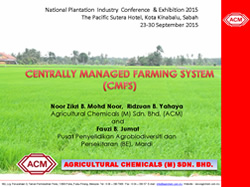 CENTRALLY MANAGED FARMING SYSTEM (CMFS)
BY Noor Zikri B. Mohd Noor, RidzuanB. Yahaya
Agricultural Chemicals (M) Sdn. Bhd. (ACM)
and FauziB. Jumat
Pusat Penyelidikan Agro biodiversiti dan Persekitaran (BE),


Download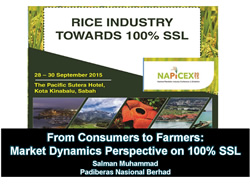 from consumer to farmers : market dynamics perspective on 100% ssl
By Salman Muhammad
Padiberas Nasional Berhad


Download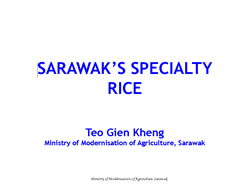 SARAWAK'S SPECIALTY RICE
BY Teo Gien Kheng
Ministry of Modernisation of Agriculture, Sarawak


Download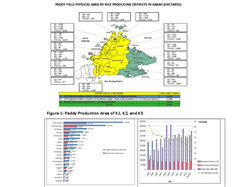 Sabah's Roles and Contributions towards fulfilling the nation's strategies in achieving 100% SSL in rice production
By Julia Lamdin, Mohd Sabrie Salim, Wong.W.W.W, John Gumpil


Download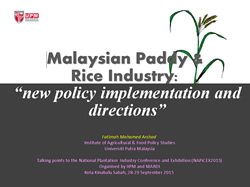 MALAYSIAN PADDY & RICE INDUSTRY: "NEW POLICY IMPLEMENTATION AND DIRECTIONS"
BY Fatimah Mohamed Arshad
Institute of Agricultural & Food Policy Studies
Universiti Putra Malaysia


Download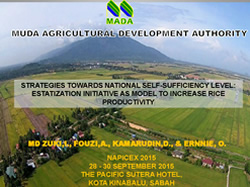 STRATEGIES TOWARDS NATIONAL SELF-SUFFICIENCY LEVEL: ESTATIZATION INITIATIVE AS MODEL TO INCREASE RICE PRODUCTIVITY
By MD ZUKI,I., FOUZI,A., KAMARUDIN,D., & ERNNIE, O.


Download