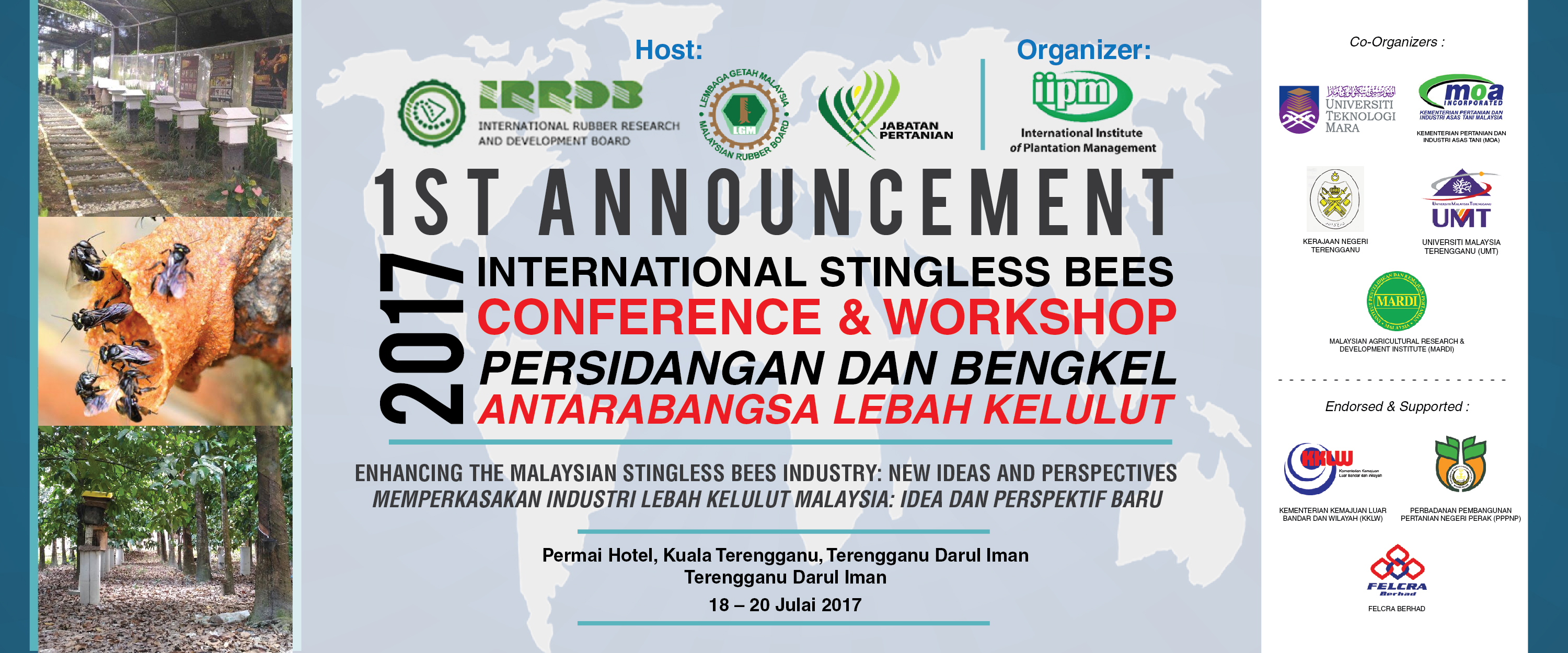 About Conference | Committees | Tentative Programs | Exhibition | Registration | Papers | Sponsorship | Contact Us
INTERNATIONAL STINGLESS BEES CONFERENCE & WORKSHOP
Introduction
The International Rubber Research and Development Board (IRRDB), Malaysian Rubber Board (LGM), and Malaysian Department of Agriculture, will host an international conference and workshop on stingless bees on 18 – 20 July 2017, at the TH Convention Centre, Kuala Terengganu, Terengganu, Malaysia. The event, among others, is hosted to commemorate Visit Terengganu Year 2017 as well as the mini 2017 Malaysian Agriculture, Horticulture, and Agro-Tourism (MAHA) Show. The conference will be organized by the International Institute of Plantation Management (IIPM), with Universiti Malaysia Terengganu (UMT), Malaysian Agriculture Research and Development Institute (MARDI) and Universiti Teknologi MARA (UiTM).
Among the most interesting issues that will be highlighted are the latest progress on stingless bee breeding and rearing, harvesting and post-harvest management, standards and quality management for stingless bee-related end products.  Several working papers will be presented and deliberated by renowned experts from the industry.
In addition to the paper presentations, participants and visitors will have the opportunity to tour exhibition booths set up by local stingless bee entrepreneurs,   attend a hands-on demonstration on stingless bees breeding and rearing, and an innovation challenge. A much anticipated segment will be the forum, especially included to allow dialogues on current issues between entrepreneurs and participants with authoritative experts from various stingless bees-related fields. This conference is also a strategic platform to promote stingless bees-related products as a super food, and the great potential of Terengganu as a centre for stingless bee breeding and rearing.
Objectives
To improve income through rearing of stingless bees
To improve methods of breeding and rearing of stingless bees
To improve the harvesting techniques of stingless bees honey
To improve standards in the quality and management of stingless bees products
General Information for Poster Presentation/Abstracts:
With topics relevant/related to the conference theme
Each abstract must not exceed 500 words
Manuscripts should beA4 sized
Single-spacing, using standard 11 points
Times New Roman in Microsoft Word 2003 (preferred)
5 cm margin at top, bottom and both sides
** Register and submit abstracts (in soft copy form) by or before 12 June 2017
Who Should Attend?
Scientists and researchers
Agriculturists
Academicians
Policy makers
Extension officers
Plantation/Forestry Consultants
Stingless bee Hobbyists
Entrepreneurs
Students
Public
Topics of Interest:
Stingless bees rearing and economic/financial improvement
Breeding & rearing methods
Harvesting & post-harvest management
Quality & management of end – products
Please double click on the e-flip 1st Announcement of International Stingless Bees Conference & Workshop 2017 (ISBCW 2017) to feel the interactive e-magazine.
Please Enjoy the tour !!!