Professional Qualifying Examination in Plantation Industry Management (PQE)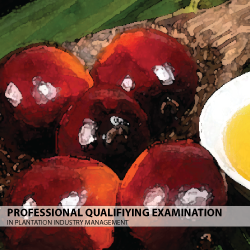 Class Description
The Professional Qualifying Examination in Plantation Industry Management (PQE) is a program specially designed for those who are already in the industry. The program is aimed for upgrading the academic qualification and professional of the hands-on experienced planters who doesn't have an opportunity to further their study. The program content more focus on the applied management concepts and principles in organization management, organizational behaviors, further understanding on management accountant, communications as well as other knowledge and skills that necessary to be high performance planters. The graduates of PQE are expected to be able to manage a commercial estate more effective and efficient manner. The PQE program also leads to the Certified Planters (CP) which is the highest professional membership Grade of the International Institute of Plantation Management (IIPM).
OBJECTIVE:
PQE program is specially designed to meet the manpower demand from the plantation industry.
To provide students the opportunity to study core disciplines of management in preparations to become an effective and          efficient  estate manager.
To train students with the ability to become a high performance leader with excellent interpersonal skills.
To teach students how to use the management tools in the making an effective decision and to solve complex problems.
To teach students on the research methodology and report writing.
LEARNING OUTCOMES:
An integrated understanding of the core disciplines of managements.
Core competencies that will support their development as effective and efficient estate managers.
Overall understanding of management tools and ability to apply in decision making and problem solving.
Leadership, communication and interpersonal skills through group discussions and assignment presentations.
An ability to manage project and to meet strict deadlines through Final project on spread issues.
Greater management awareness and personal confidences. The motivation to implement changes and to improve existing management practices.
PROGRAM MODE:
Taught course programme and class will be on alternate weekends or weekdays.
PROGRAM DURATION:
The Duration of the programme > 36months.
WHO SHOULD ATTEND:
Estate Supervisor
Assistant Manager
Manager and above
ASSESSMENT METHOD:
Continuous Assessment : 60%
Written Final Exam          : 40%
PROGRAM FEE:
The course fees are -includes notes, learning resources, assessment and membership fee, The course fee for the program is RM21,850.00 (Course fee subject to change)
ENTRY REQUIREMENTS:
Degree in any related field recognized by MQA, or ;
Diploma in Plantation Industry Management or any diploma recognised by MQA, or;
Pass CPIM or other certificates of agriculture recognized by the government of Malaysia with a minimum of 5 years or work experience in plantation industry, or;
Pass STPM/ A Levels with at least 2 related field and 5 years or working experience in plantation industry, or;
SPM with minimum 10 years working experience in plantation industry.
MODULES
| MQA CODE | DESCRIPTION |
| --- | --- |
| PMI001 | Pembangunan Minda Insan & Kecemerlangan Pendidikan |
| MF1 | Corporate Communication |
| MF2 | Fundamentals of Management |
| MF3 | Introduction of Soil Science |
| MF4 | Crop Production Technology |
| MF5 | Plantation Economic |
| MPP6 | Plantation Information Management |
| MPP7 | Management Accounting |
| MPP8 | Human Resources Management |
| MPP9 | Plantation Crop Protection |
| MPP10 | Soil Management |
| PS11 | International Marketing |
| PS12 | Organizational Behavior |
| PS13 | Industrial Relations |
| PS14 | Post Harvest and Milling |
| PS15 | Integration of Agricultural System |
| PS16 | Agricultural Biotechnology |
| PS17 | Farm Machinery Management |
| PS18 | Project Paper (Special Issue) |
| PS19 | Research Methodology |