Professional Diploma in Plantation Management (PDPM)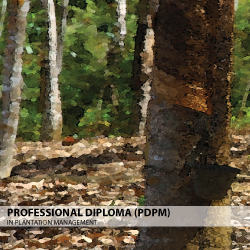 Class Description
Professional Diploma in Plantation Management (PDPM) is a program that specially designed to meet the requirements by the plantation industries in line with the advancement in the technology and Research & Development (R&D) in this sector. The students will be equipped with the management concepts includes human resources management aspects, communication skills, accounting knowledge, etc as a preparation for them to be ready as young Estate Manager.
OBJECTIVE:
To equip students with the knowledge and skills in managing a commercial plantation crops.
To enhance knowledge in new agricultural technologies and management principles in the plantation sector
To enhance the professionalism in plantation management in which organizational objectives are set and achieved through a trough understanding of the principles laws governing accountability in plantation environment.
LEARNING OUTCOMES:
After completed the PDPM program, students must be able:
To apply the management concept and principles in their routine job. They must be able to manage all resources under them efficiently.
To practice basic accounting concept in their operation activities and more concern on the minimizing of production cost and maximizing the yield per hectare.
To be more efficient and effective in performing their given tasks.
To carry out more responsibilities and scope of works.
To manage projects timely and reporting of progress.
ENTRY REQUIREMENTS:
Diploma with GPA 2.50 and above in any discipline, or;
Certificate in Plantation Industry Management (CPIM), IIPM or other recognized certificate program endorsed by Professional and Academic Advisory Board (PAAB) with at least three (3) years working experience, or;
STPM with 2 principal pass or CGPA 2.50 with three (3) years experience in plantation industry ; or
SPM with any three (3) creditsor its equivalent with five (5) years' experience in plantation industry.
PROGRAM DURATION:
The Duration of the program is not less than 24 months.
MODE OF PROGRAM:
Taught course and the class will be on the alternate weekend and weekdays basis.
WHO SHOULD ATTEND:
Supervisor and above
Support Staff
PROGRAM FEE:
The course fee are includes notes, learning resources, assessment and membership fees. The course fee for the program RM18,850.00 (Course fee subject to change)
ASSESSMENT METHOD:
Continuous Assessment ( Assignment, Quiz, Test, Presentation – 60%
Written Examination – 40%
PROGARM MODULE
| MQA CODE | DESCRIPTION |
| --- | --- |
| PMI001 | Pembangunan Minda Insan & Kecemerlangan Pendidikan |
| MD001 | Communication English |
| MD002 | Fundamentals of Management |
| MD003 | Soil Management |
| MD004 | Estate Accounting and Finance |
| MD005 | Information and Communication Technology in Plantation |
| MD006 | Land Surveying |
| MD007 | Research Methodology |
| MD008 | Nursery and Landscape Management |
| MD009 | Human Resources Management Estate Safety and Health |
| MD010 | Mechanization of Estate Operation |
| MD011 | Plantation Crop Management and Post Harvest (Oil Palm) |
| MD012 | Plantation Crop Management and Post Harvest (Rubber) |
| MD013 | Weed, Pest and Disease Management |
| MD014 | Land Clearing and Preparation |
| MD015 | Enterprenuership |
| MD016 | Project Paper |
| MD017 | Practical Training |
| MD018 | Internship |