Certificate in Plantation Industry Management (CPIM)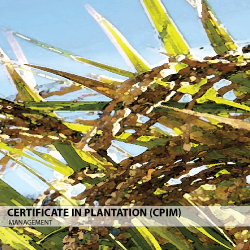 Class Description
The Certificate in Plantation Industry Management (CPIM) program is designed to meet the manpower demand from the plantation Industry. Based on the concepts and the best practices in this industry, the institute has developed a comprehensive package that encompasses both academic and practical components in their area of specialization both from academic institution and practitioners. The program aimed to produce field staff that able to produce field staff that assist in the estate management. By undergoing this program will also provide opportunity for students to prepare themselves in the industry.
OBJECTIVE:
To teach students the fundamentals of management concept and principles that they can apply in their daily work.
To teach students on the activities in the plantation both in theoretical and hands-on as preparation for employment in the industry.
LEARNING OUTCOMES:
At the end of the program student will be able to:
Enhance their knowledge and skills of plantation industry management and the other Agro related areas.
Manage and utilized all resources efficiently
Understand the about the cost effectiveness and more profit orientation.
Demonstrate the technical task or activities in the estate to the workers confidently.
Perform his duties more efficient and effective.
ENTRY REQUIREMENTS:
SPM or its equivalent with minimum three (3) credits.
PROGRAM DURATION:
The duration of the program is not less than 18 months
WHO SHOULD ATTEND:
Field Conductor
Mandore
SPM & STPM Leavers
PROGRAM FEE:
The course fee are includes notes, learning resources, assessment and membership fees. The courses fee for the program RM7, 060.00 (Course fee subject to change).
ASSESSMENT METHOD:
Continuous Assessment – 70%
Written Final Exam – 30%
PROGRAM MODULE
| MQA CODE | DESCRIPTION |
| --- | --- |
| PMI001 | Pembangunan Minda Insan & Kecemerlangan Pendidikan |
| MC001 | Communication English |
| MC002 | Fundamentals of Soil Science |
| MC003 | Fundamentals of Crop Science |
| MC004 | Pests and Diseases Management |
| MC005 | Fundamentals of Plantation Management |
| MC006 | Fundamentals of Estate Mechanization |
| MC007 | Fundamentals of Plantation Accounting |
| MC008 | Land Clearing and Preparation |
| MC009 | Fundamentals of Information and Communication Technology in Plantation |
| MC010 | Fundamentals of Management |
| MC011 | OSHA and Industrial Relation |
| MC012 | Research Methodology |
| MC013 | Project Paper |
| MC014 | Practical Training |
| MC015 | Internship |