Certificate in Forest Plantation Management (CFPM)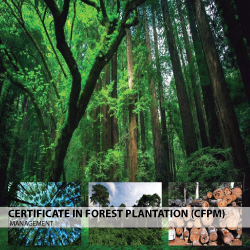 Class Description
Forest plantation is a hands on field of study. Certificate in Forest Plantation management (CFPM) provides an overview the forest plantation management techniques. The modules cover from land preparation, transplanting, nursery management, field activities in the plantation, harvesting and utilization and also the other soft skills that requires in managing the forest plantation.
Based on the concepts and the best practices in the industry, the Institute has developed a comprehensive package that emphasizes both academic and practical component in plantation management. The program is delivered by knowledgeable and experts in their area of specialization both from academic Institution and practitioners. At the end of the program students will go through the technical training session which can help students to learn the right techniques and procedures in performing the field activities in forest plantation.
OBJECTIVE:
To provide fundamentals of knowledge and skills in forest plantation, plant science other soft skill and management concepts.
To teach students on the activities in the plantation both theoretical and hand on as preparation for employment in the industry.
To create awareness on the relationship of economic activities (forest plantation) and environment conservation.
LEARNING OUTCOMES:
Upon successful completion, student will have the skill and knowledge to:
Perform their task given more effective and efficient manner.
Demonstrate the technical task or activities in the estate to the workers confidently.
Assist in the management of forest plantation.
More concern about the best practices towards resources and environment conservation.
ENTRY REQUIREMENT:
STPM or its equivalent; or
SPM or its equivalent
PROGRAM DURATION:
The duration of the program is 3 months for full time and 10 – 12 months for alternate weekend basis.
ENTRY REQUIREMENT:
Field Conductor
Mandore
SPM & STPM Leavers
PROGRAM FEE:
The course fee are includes notes, learning resources, assessment and membership fees. The courses fee for the program RM7, 060.00 (Course fee subject to change).
ASSESSMENT METHOD:
Continuous Assessment – 60%
Written Final Exam – 40%
PROGRAM MODULE
Module 1 : Communication English
Module 2 : Plant Science
Module 3 : Fundamentals of Management
Module 4 : Fundamental of Dendrology
Module 5 : Introduction to Soil Science and Management
Module 6 : Land Preparation and Transplanting
Module 7 : Nursery Establishment and Maintenance
Module 8 : Forest Plantation Protection and Sigil culture
Module 9 : Fundamental of Tree
Module 10 : Plantation Management
Module 11 : Harvesting and Utilization
Module 12 : Technical Training